Whatever your space, True Value has the tools and supplies you need to create the ultimate outdoor retreat. Find lawn and garden options designed for any climate, any season. From fencing to footwear to garden gnomes, and so much more. Into indoor gardening? We have that, too. Shop our collection of products and ideas to inspire your great outdoors
ENHANCEMENTS AND BENEFITS
The go-forward vendors include Fountainhead for new RoundUp® branded sprayers, HD Hudson® Mfg. for Green Thumb® and Hudson branded models, and Solo Inc. is producing a new Green Thumb backpack sprayer. The assortment will feature updated product packaging, improved quality and consolidated item and vendor offerings.
Scotts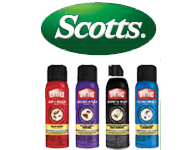 Scotts® Ortho® Ant & Roach Killer kills not just ants, roaches, spiders and scorpions, but also stink bugs, which have become a growing problem. Ortho Hornet & Wasp Killer features an entrapping foam, which stops wasps instantly and kills insects that return to the nest. Ortho Flying Insect Killer can be used indoors and outdoors, and can even be used on ornamental plants like roses and peonies. Ortho Bed Bug and Flea Killer kills bed bugs AND their eggs. Visit Booth #2761 at Fall Reunion for 50% off case-quantity purchases (Limit 2 cases per item). For more information contact Noelle Krupski, Product Merchant, at Noelle.Krupski@truevalue.com.
Creative Co-op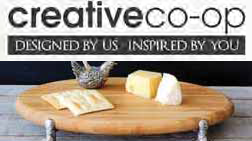 Creative Co-op Grange collection has an updated take on the earthy homestead look. Each piece is functional yet stylish, making it an easy fit for any space. Whether you're bringing the outside in or updating your outdoor space, Creative Co-op's Secret Garden collection possesses warmth and charm. From figurines and terrariums to bird baths and wall décor, this collection is fresh and unique. For more information contact Franci Maurici, Product Merchant, at Francesca.Maurici@truevalue.com.
Fiskars® Gilmour® PRO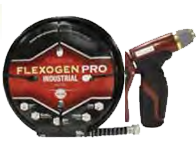 Fiskars® Gilmour® PRO is a line of professionalgrade watering and cleaning tools designed to handle the toughest jobs around. Whether working on a construction site, manufacturing job, or landscaping project, a professional is in need of equipment that withstands extreme conditions and wear. Look for the 4-ft. Gilmour Pro Retail Assortment at the upcoming Fall Reunion! For more information contact Edin Bosnyak, Product Merchant, at Edin.Bosnyak@truevalue.com.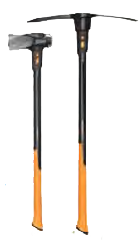 New Fiskars Striking Tools with patented IsoCore® Shock Relief System features an insulating collar that interrupts the path of vibration from the strike, significantly reducing the shock and punishment your body takes. The upcoming Fall Reunion will feature new assortments, discounts, and merchandising racks.
Fiskars Clearing Tools feature versatile blades shaped for a range of tasks, including swinging, pull-cuts, push-cuts, sawing and more. These tools are more efficient for clearing than pruning tools. The Fiskars single, sturdy blade is built for sweeping, cutting, and removing plants. One-handed use allows a free hand to gather branches and make sweeping cuts. Look for these new tools in the True Value® Retail Assortment! For more information contact Keith Dorner, Product Merchant, at Keith.Dorner@truevalue.com.
Green Thumb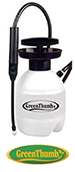 The Green Thumb® sprayer program from Hudson® is an exclusive lineup for True Value® Members—designed to give your customers more options and features than ever before, and give you increased sales and profit. New for Fall Reunion from Hudson is a heavy-duty Bak-Pak® sprayer. It's extra capacity makes it the fast, easy way to carry larger amounts to cover large areas. Also new to the sprayer program is a professional-grade Super Sprayer®, designed with all Viton® seals for a variety of commercial or household applications. For more information contact Edin Bosnyak, Product Merchant, at Edin.Bosnyak@truevalue.com.
Maurice Sporting Goods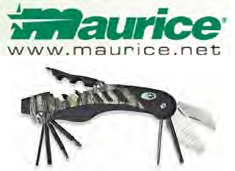 Maurice Sporting Goods warehouse program features the best-of-the-best in basic 16-ft., 12-ft. and 8-ft. Freshwater Fishing planograms. In addition to fishing, the True Value warehouse stocks many great hunting items. These include Mossy Oak® branded T-shirts, sweatshirts and pants. Also a great lineup of Mossy Oak branded hunting accessories, and Bio Logic® attractants are available. Finally, we will have many special buys from all the categories we sell, including marine, fitness, outdoor gifts and more. Visit them at Booth #1179 at Fall Reunion. For more information contact Tim Hamman, Product Merchant, at Tim.Hamman@truevalue.com.
BLACK+DECKER®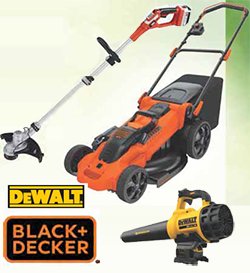 BLACK+DECKER® announces additions to their collection of 40V MAX* outdoor tools. These tools are part of a larger family of outdoor equipment that includes hedge trimmers, sweepers and mowers.
The new 40V MAX* Trimmer & Edger features a durable, high-efficiency brushless motor that provides more power and up to 30% longer run time than its best selling predecessor. A variable-speed trigger allows users to choose the optimal cut speed for their application, which provides maximum control over power and run time. At a suggested retail price of $179.99, it's a great option for the homeowner looking for an affordable and high-performance trimmer.
The 40V MAX* 20-In. and 16-In. Lawnmowers are the first BLACK+DECKER mowers to feature AutoSense™ Technology, which determines the thickness of grass and makes power adjustments accordingly. In addition, each mower features 7 height settings that can be adjusted with a simple lever. With convenient 3-in-1 mulching and bagging, the 20-in. also features EDGEMAX®, which provides up-to-the-edge cutting.
Each tool uses a high-performance 40V MAX* lithium-ion battery, which provides powerful performance and long battery life, and makes them great alternatives to the hassles of gas-powered equipment.
DEWALT® 20V MAX* Outdoor Tools allow the construction professional to GET MORE DONE™ by expanding their 20V MAX* system with a 5Ah Brushless String Trimmer and 5Ah Brushless Handheld Blower. The tools eliminate the need to carry gas to the jobsite and the hassles that come with gas-powered tools—including start issues, maintenance, fuel spills, odors and loud engines.
Each of the DEWALT Outdoor Tools comes standard with a three-year limited warranty, one-year free service contract, and 90-day money-back guarantee. For more information contact Bonnie Mcdougall, Product Merchant, at Bonnie.Mcdougall@truevalue.com.